During the early development of photovoltaic industry in Europe, European countries have been subsidizing household photovoltaic application and setting high prices for energies, shaping the long-term distributed layout of equipment installation in Europe. Under the catalytic action of mature market, distributed demands in Europe focus more on essential benefits like equipment aesthetics, safety and reliability.
In the face of the new trend, the all-black solar module is developed by Jinneng Clean Energy Technology Co., Ltd. ("JINERGY" or "Company) at the right moment. The customized all-black appearance fits more to the aesthetic requirements of European customers, and the product performance has been proved to be high-quality, safe, and reliable. It adopts weldable and interlinked black bus bar, which is created by covering the traditional black bus bar with black material to maintain same color with the module after tandem connection. In this way, the module's safety and stability are enhanced. The black high-reflective back plate of the module could increase reflection of light energy and enhance the power generation capacity while displaying all-black appearance. With optimized design, the all-black solar module shows higher resistance to PID as the module's efficiency attenuation is less than 1% in a trinary PID test run by a third-party agency. It could perfectly blend with landscape projects like villa roof, fence, and urban outdoor carriage sheds. Currently, it is a dominating and leading trend to recover architectural aesthetics in the distributed innovation of photovoltaic industry, which is favored by overseas customers, especially those in Europe.
This trend could be found in the module products recently released by many first-tier manufacturers like LONGi Solar, Jinko Solar, and Trina Solar, indicating that the market is accelerating to fill up the gap and that there are booming demands for distributed "black roof". The all-black modules that JINERGY shipped to France recently are well recognized by customers as they are able to maintain black in all details to create perfect low-carbon roofs for customers.
Around the world, French Carbon Footprint Certification poses the harshest restriction of carbon emission on market access. From the earliest stage of product development, JINERGY has considered low-carbon property throughout the product lifecycle as a key indicator and determined to ensure the quality, efficiency and reliability of the product with high standard and high requirement in production process and based on customers' actual demands. The all-black solar module stands out among JINERGY products, with minimum carbon footprint of each all-black single-side power generating module lower than 420kg co2/kw, fitting more the dominating trend of green and low-carbon architectural development worldwide.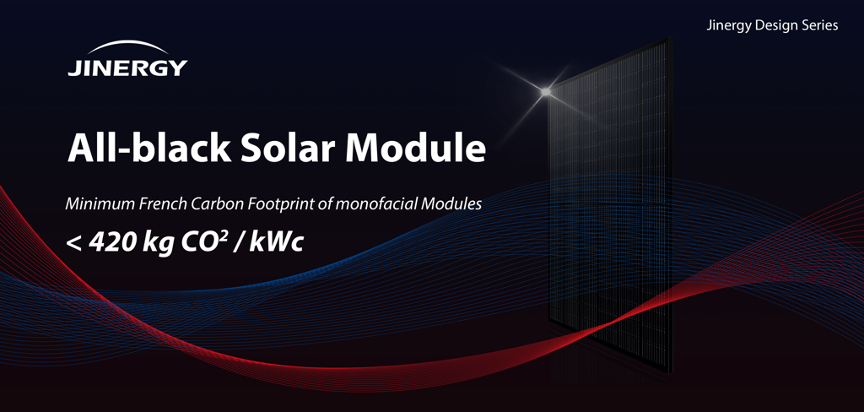 Relying on the optimized production process and the rigorous quality management system, JINERGY's all-black solar module presents higher reliability, better appearance and greater efficiency, to create perfect aesthetics in equipment installation at customer site. So far, part of the all-black modules has been TUV certified, ensuring the product's accelerated expansion into the European market and intensifying JINERGY's global commercial network. Besides, JINERGY's all-black solar module will also facilitate the high-quality development of the distributed market, enable more customers to understand the low-carbon and aesthetic value of photovoltaic module, motivate the potential customers to voluntarily launch the installation and encourage more and more individual users to get involved in the global carbon neutrality target and to work together to create a carbonless future.