On November 4, the 4th China International Import Expo(CIIE) was grandly opened in Shanghai. The Shanxi Provincial Department of Commerce led 39 units (enterprises) to attend the event, showing the new style and new achievements of Shanxi merchants in an all-round way through image exhibition halls, theatrical performances, and live webcasts.As a representative enterprise of new energy in Shanxi, Jinneng Clean Energy Technology Ltd. (Jinergy) and Shanxi Lu'an Solar Energy Co., Ltd. (Lu'an Solar) represented Jinneng Holding Group to attend the exhibition with high-efficiency PV products to spread the high-efficiency value of green energy and help the carbon neutral goal to advance steadily.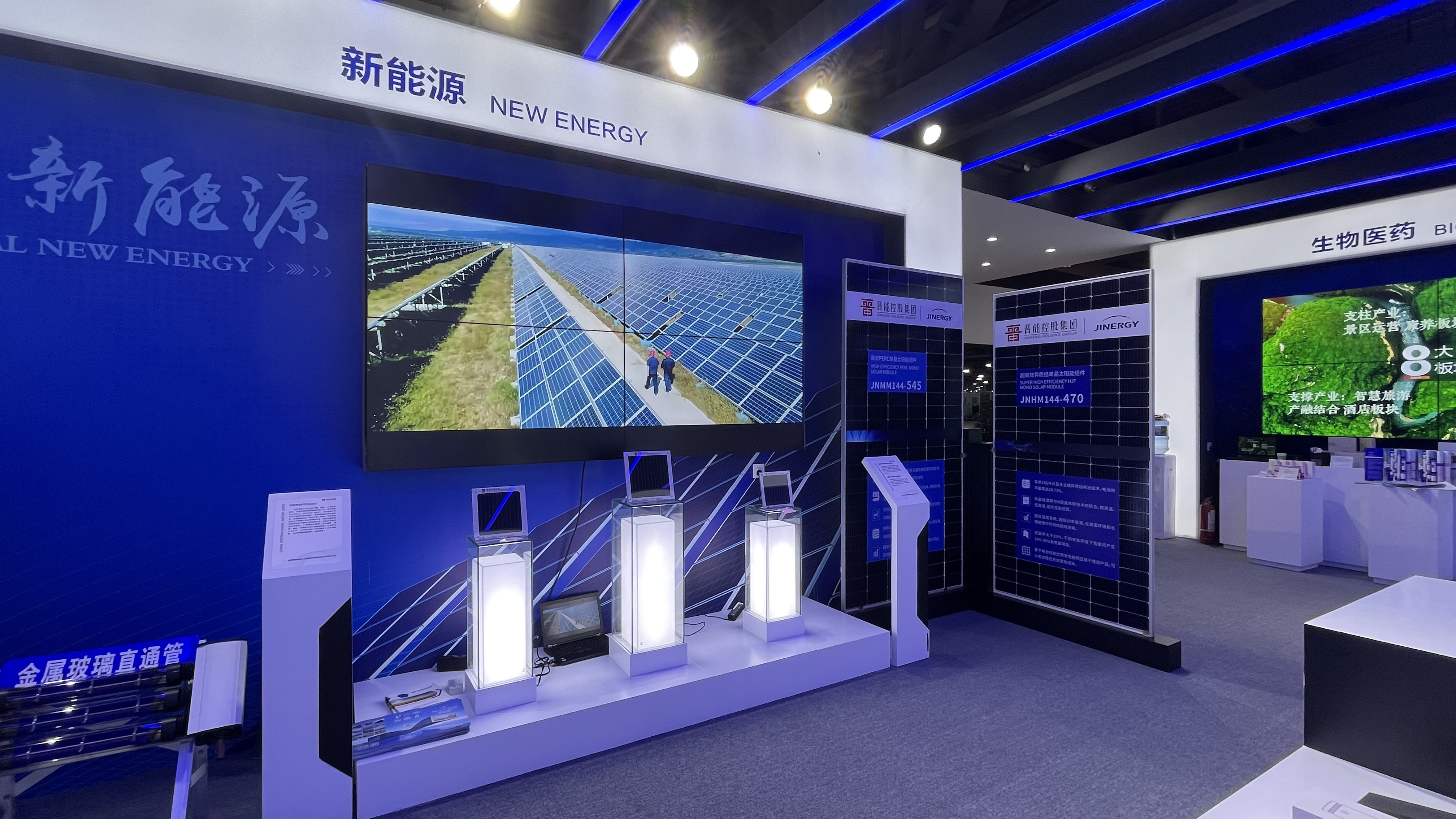 The Shanxi Exhibition Hall is located at the entrance of the Middle East Landing Hall of the National Exhibition and Convention Center. Its design style is "combination of ancient and modern": the wooden facade is matched with the LED main screen, and the flexible lines outline the charm of Taihang. The whole exhibition hall is mainly based on dynamic visual effects, showing the heavy accumulation of Shanxi and the modernization transformation and construction. Cultural interweaving and science and technology shine on the international stage of CIIE.
Jinneng Holding Group is displayed in the theme exhibition hall of "Transformation and Development", which focuses on the new forces of science and technology leadership and innovation and development in Shanxi. It shows that Shanxi market and relevant departments fully recognize the strength of Jinneng Holding Group's PV manufacturing enterprises, which is also the best praise for Jinneng Holding Group's continuous promotion of carbon neutral and new energy construction.
It is reported that the exhibits on display are M6, M10 and M12 high-efficiency bifacial PERC solar cells and M10 h PERC and M6 HJT solar modules. These products have outstanding performance in domestic and overseas markets and are the "vanguard weapon" of the enterprise's globalization strategy.
Lu 'an solar high-efficiency bifacial solar cell technology integrates advanced technologies such as MBB and SE, and adopts the world's unique silicon oxynitride technology, with a mass production efficiency of more than 23%.The solar modules that Jinergy displayed are equipped with MBB and high-density packaging technology, the power output and efficiency of the modules are better; non-destructive cutting technology and half-cut technology effectively improve the yield of modules, and the risk of cracking and internal loss are significantly reduced.High-efficiency PERC solar module has outstanding anti-PID and anti-hot spot performance, and the module has better reliability; super high efficiency HJT solar module inherits the technical advantages of low degradation, excellent low light performance, and low temperature coefficient of N-type cells. With bifaciality over 85%, the power generation can be increased by 10%-35% according to different environments, bringing customers higher power generation benefits.With continuous technological innovation, Jinneng Holding Group continues to develop the PV industry and is recognized by global customers.As of the first half of this year, Jinneng Holding Group's exports of PV cell reached 0.4 billion RMB and PV module reached 0.7 billion RMB.
At present, Jinneng Holding Group has formed an ecological cluster with a comprehensive cell capacity of 11GW and a comprehensive module capacity of 6.5GW.During the 14th Five-Year Plan period, Jinneng Holding Group will strive to build silicon wafers, PV cell, module integrated production capacity, PV cell and module production capacity will reach 20GW.Jinneng Holding Group's participation in the Expo will further strengthen global linkage, realize the organic integration of green resources, and contribute China's strength to the global high-quality realization of carbon neutrality goals.