On May 14th, Jinneng Group's ultra high-efficiency heterojunction module production base in Jinzhong City was put into production officially. WANG Yixin(Vice-governor of Shanxi Province), SHI Dinghuan(Counselor of the State Council and Chairman of Chinese Renewable Energy Society), WANG Bohua(Secretary-general of China Photovoltaic Industry Association), PhD ZHAO Ying(Director of Photovoltaic Industry Committee of Chinese Renewable Energy Society), officials of Shanxi Provincial Party Committee, Provincial Government, relevant provincial departments, Jinzhong Municipal Party Committee and Municipal Government as well as the customer representatives attended the ceremony. The commissioning of the project signified that Jinneng Group took a substantial step forward in mass production of ultra high-efficiency cells and modules after its successful investment in construction and expansion of the 1.3GW production base of high-efficiency crystalline silicon cells and modules in Wenshui. It filled in the gap of high-end photovoltaic manufacturing industry in Shanxi Province.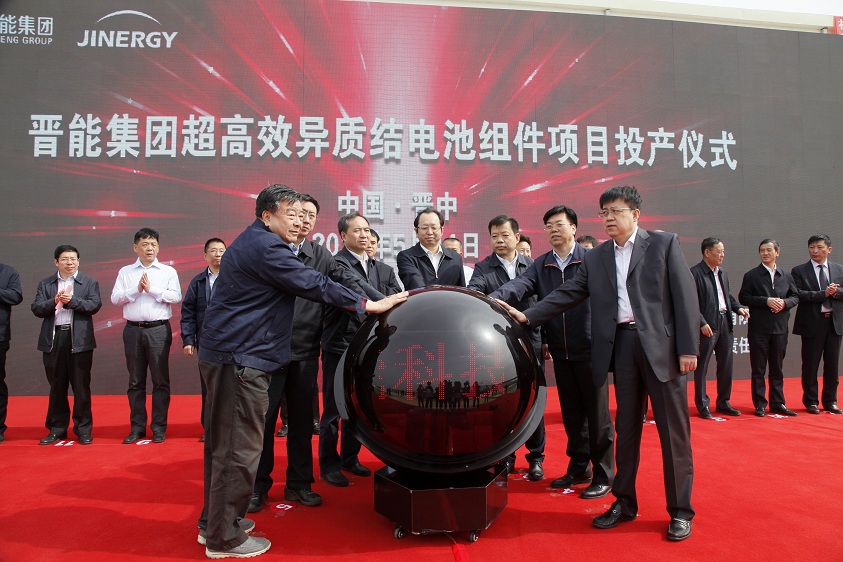 It is reported that the newly-developed ultra high-efficiency HJT modules of JINERGY adopted HJT bifacial cells with conversion efficiency over 23%, and they are featured by many a advantages including outstanding low light response, ultra-low power temperature coefficient and ultra-low attenuation. Meanwhile, thanks to their double-sided power generating performance, their generating capacity may increase by 8%~20% in different applications. Compared with ordinary high-efficiency modules, the overall generating capacity has increased by 44%. So far, the MP cost of HJT modules is 0.7 USD/W. JINERGY's goal is to reduce the MP cost of HJT modules to under 0.4 USD/W within three years. This is a good start for further decrease of photovoltaic LCOE and great increase of power station's overall profits.
"The project cannot be put into production within such short time without the strong government support", WANG Qirui, Chairman of Jinneng Group, expressed continuously, "Shanxi has been committed to construction of modern green energy system and environmental-friendly development of black coals in recent years. In this situation, we have realized the layout of three generation technologies: high-efficiency polycrystalline, PERC mono crystalline and ultra high-efficiency heterojunction, by means of following the guideline of high-end and large-scale distribution of advanced PV manufacturing technologies and strict adherence in the progressive development strategy of 'production, pilot test, research and development generation by generation'. "
Jinneng Group's ultra high-efficiency HJT module production base was put into production officially and it may probably bring a strong new impetus to the development of energy transformation in Shanxi Province. As the epitome of the transformation in Chinese traditional coal resources industry, Shanxi Jinneng Group made great efforts in pushing the innovation of traditional industries and high-end orientation of emerging industries in recent years, and we are also committed to green development of black coals, low-carbon development of high-carbon resources and sustainable development of resource industry in order to create a modernized integrated energy group. Within only 3 years, the PV intelligent manufacturer JINERGY has already succeeded in ranking among the top 5% technically competitive and cost-effective enterprises in the world, due to its accurate technology programming, optimized capacity allocation and efficient operation and management. Ultra high-efficiency HJT cell and module production base has become the key milestone for Jinneng Group because of speeding up the layout of high-end manufacturing, realizing the breakthrough in innovative technologies and the leap in high-efficiency production capacity.